Japan tour 2017
11月12日 (日) 【松戸市】カフェ シャコンヌ 
'岡本潤也と仲間たち' ゲスト出演
11月14日(火) 【岩見沢市】クピド・フェア  'ふれあいコンサート'
11月17日(金) 【苫小牧市】信用金庫ホール 
'岡嶋晋ヴァイオリンリサイタル'
11月18日(土) 【札幌市】札幌エルムホール
'岡本孝慈ピアノリサイタル ~"F.A.E' ヴァイオリニスト岡嶋晋を招いて'
11月19日(日) 【札幌市】メルキュールホテル札幌 
ランチタイムコンサート
ワインとヴァイオリンのマリアージュ~ 音楽と料理とワインの出会い
11月21日 (火) 【東京都】やなか音楽ホール 
"Salon de Paris パリに集った音楽家達へのオマージュvol.5" * 
出演
ヴァイオリン 岡嶋 晋
ピアノ    岡本孝慈 
ピアノ(東京)松永理恵子 
ヴィオラ (東京) 岡本潤也 
ソムリエ (東京) 近藤 将
プログラム:
ブラームス ヴァイオリンソナタ変ホ長調作品120-2
フォーレ ヴァイオリンソナタイ長調
ロッシーニ/カステルヌーヴォ=テデスコ/J.ハイフェッツ:「フィガロ」、
タイス 迷走曲 など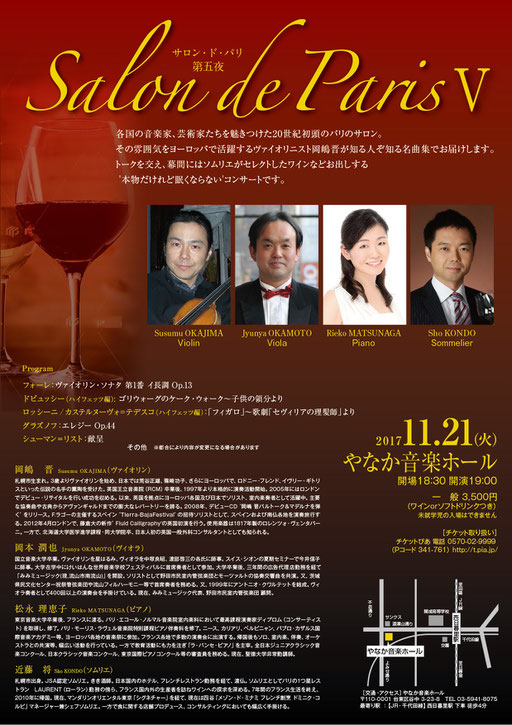 Friday 3rd of November 2017 18.30~
Schott Music shop
Susumu OKAJIMA (Violin)
Tom Blach (Piano)
<programme>
Gabriel Fauré
Sonata for violin & piano No. 1 in A major,
Op. 13 (1877)
Johannes Brhams
Sonata for violin and piano in E flat major,
Op. 120- 2 (1894)
Nathan Milstein
Paganiniana (circa 1930)
Mario CASTELNUOVO-TEDESCO/J. Heifetz
"Figaro" from ROSSINI 'The Barber of Seville'
(circa 1940)
Claude Debussy/J. Heifetz
Golliwogg's Cakewalk (1908/1930-41)
Friday 5th  May 2017 Vol 31
The Schott Music
Susumu OKAJIMA (Violin)
Tom Black (Piano)
(PROGRAMME)
W A Mozart : Sonata for piano and violin in E minor, K. 304 (1778)  
K Szymanowski : Trois Myths op. 30 (1915)
I Stravinsky / S Dushkin : 'Russian Maiden's Song' from 'Mavra' (1922)
F Chopin / E Ysaÿe : Ballade No.1 in g minor, Op.23 
                  Adaptation for violin and piano (1835-36/1916)
R Strauss: Violin Sonata in E-flat major, Op.18 (1887-88)
Tuseday 25th April 2017
IDF Musical Evening
Friday 27th January 2017   vol 30.
The Schott Music
 Susumu Okajima (violin)
 Mai Yamada (piano)
(programme)

Francis Poulenc:Sonata for violin and piano 'for Garcia Lorca'
JS Bach:Ciaccona  from Partita for violin solo in d minor BWV1004
Camille Saint-Saens :introduction and Rondo Capriccioso Op.28
(piano)
Edmund Hartzell:Dandelions, Op.27  (for Mai Yamada) (2016)
Eduard Elgar : Sonatina 
Frederick Delius :Three Preludes
Frank Bridge : Three Sketches